MICHAEL RYAN man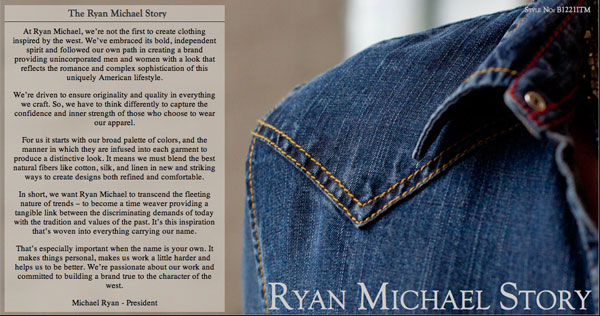 For Michael Ryan, we are not the first to create clothes inspired by the West. We have embraced his bold independent spirit and followed our path in creating a brand that offers men and women a look that reflects the complex romanticism and sophistication of this American lifestyle.
We are driven to guarantee originality and quality in everything we produce by hand. So, we need to think differently to capture the trust and inner strength of those who choose to wear our clothes.
For us it starts with our broad palette of colors and the way they are infused into each garment to produce a distinctive look. It means that we have to mix the best natural fibers like cotton, silk, linen in a new and suggestive way to create refined and comfortable designs.
In short, with Michael Ryan we want to overcome the ephemeral nature of trends and become a concrete link between today's needs and the tradition of past values. This is the inspiration that is woven with our name.
This is especially important when the name is yours. It makes things personal, it makes us work harder and helps us to be better. We are passionate about our work and are committed to building a true Western brand.
Michael Ryan - President