Boots camperos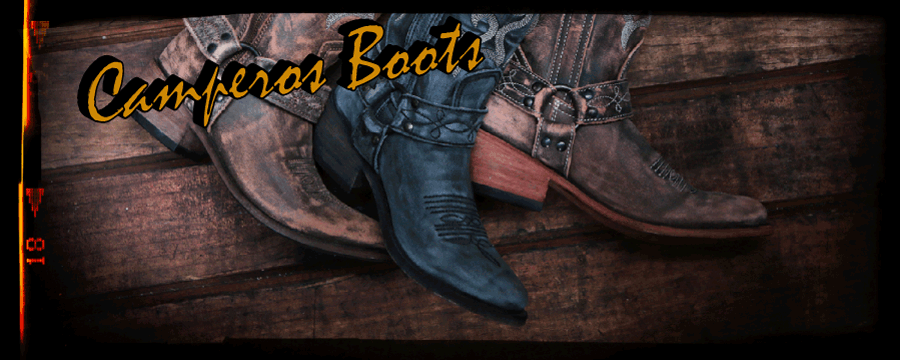 Camperos boots is a selection of boots with less extreme lines and very simple and clean finishes; the preferred tip in these models is generally round or square. And to learn more about it, this is the story: As the name itself suggests, Camperos, the boots that we know as such and famous in the equestrian world and in the western imaginary, are born as technical footwear for peasants in general (of every age!) who had to face work in the fields and in contact with animals.
The need for a shoe that could provide protection and sturdiness led to the evolution of the shoe in this direction until it became essential also in the military sphere with obviously an eye on the riders.
Precisely in the military sphere, at one point the transition between the simply technical boot and the boot with a more aesthetic value linked to the noble figure that derived precisely from the use of these shoes by the impeccable and valiant 18th century British knights was made. In particular, the figure of the First Duke of Wellington, a war hero and former prime minister, was important.
The Duke of Wellington wore the famous Assian boots, a style of military-derived footwear worn by British troops at the time. The Assian boots were known for their short heels, the upper to cover the calf up to the knee, the tops decorated with tassels, the semi-pointed toe and the ease of entering and leaving a stirrup. The Duke of Wellington commissioned a local shoemaker to modify his personal Hessian boots to create a boot with soft calf skins, a one-inch heel and a mid-calf upper, creating the first Camperos boot. The boot soon became a popular fashion statement for men, as it still is today.
Today Jalisco offers a Wellington heel boot in a variety of leathers and colors. The popularity of this boot known as Camperos grows because of its comfort and its clean silhouette. It has a lower heel than the typical cowboy boot and adds more comfort to those approaching for the first time. Whether you are a cowboy, a rider, a motorcyclist or simply looking for a historically comfortable and sturdy shoe for any occasion, the summer Camperos could be the perfect solution for you.